There are not many Promises of the Green Scapular, but they are very significant as they are related to the destiny of our soul and eternal life. Devotion to this scapular dates back to the 1840 after series of private revelation to Sister Justine Bisqueyburu in which she had a vision of the Blessed Virgin and Her Imaculate Heart.
---
Promises of The Green Scapular:
1. Conversion of souls outside of the Church
2. Assurance of good death
3. Reconciliation to the Church for those who have lost their faith or strayed from it
4. Strengthening of the faith for those already in the Church
5. Protection against the Satan
6. Physical healing, if it is God's will
The graces that we can receive by accepting and wearing the green scapular are proportional to the degree of our faith.
Who should wear the Green Scapular?
Our Lady stated herself that the scapular "should be worn by the one whom we desire to benefit by Her mighty intercession, particularly in regard to conversion or healing".
The only requirement is that the Green Scapular be blessed by a priest and worn or carried by the person wishing to benefit by it. If however, the person in need of grace is obstinate, the Green Scapular may be placed secretly inside his clothing, home or possessions, and the giver should say the prayer instead.
That being said, many people choose to buy the scapular for them self. If you are in need of physical or emotional healing, or are struggling with your weakening faith, then you can certainly wear the scapular yourself and ask for Our Lady's intercession.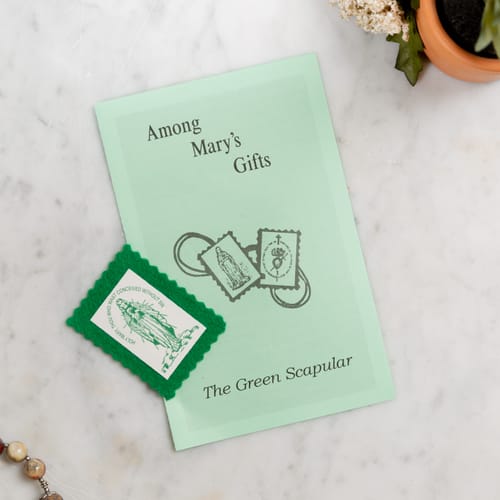 Prayer for Green Scapular Wearers
The only prayer to be recited is the inscription surrounding the heart on the reverse side of the scapular;
" Immaculate Heart of Mary, pray for us now and at the hour of our death"
This should be repeated daily, if not by the one wearing it, by the one giving it. Graces are granted through our Lady's intercession and are proportionate to the confidence with which it is given.
---
To join the Apostolate of the Green Scapular go here.