It is not easy to write a list of the Most Famous Saints in the Catholic Church. The number of Saints officially announced by the church (that is, canonized) over the centuries is around 11,000, and you have to know that every deceased person who stays in heaven is a saint, so it's definitely hard to choose a small handful of them. For each believer, this list may be different, because everyone has their own favorite Saint, the one they like the most and with whom they have the best contact.
Personally, when creating this list, I was thinking about Saints who Catholics turn to in case of trouble, to whom we pray most often when we are sick or need guidance. I know that Saint Thomas Aquinas, Saint Augustine or the rock of the Catholic Church, Saint Peter are all great Saints, but hand on heart, how many of us pray to them in the time of worry?
It must be remembered that Angels and Archangels are also included in the group of Saints, so when writing a list, they must be taken into account.
I am curious if your list would look similar. Please feel free to include your favorite saint in the comments section.
The Most Famous Saints in the Catholic Church:
1. Virgin Mary

The greatest saint of all- Mary, the Virgin Mother of Jesus, was a first century Galilean Jewish woman of Nazareth, the wife of Joseph. She was miraculously conceived free of the taint of original sin (The Immaculate Conception), that has affected every other person in history except Jesus Christ.
In the Old Testament we find prophecies about the Virgin Mary and her role in the salvation of mankind, while the New Testament describes the events of her life.
Mary was born into a devout Jewish family in Galilee. Her parents, Saint Joachim and Saint Anne (grandparents of Our Lord) dedicated her to God in a Jewish temple when she was three years old. According to Christian theology, Mary conceived Jesus through the Holy Spirit while still a virgin, during her engagement to Joseph. Mary was about 12-year-old then and she responded with faithful obedience to God's plan.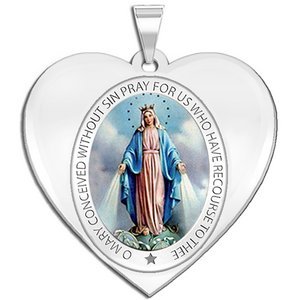 Jesus was born in Bethlehem because of the census declared throughout the Roman Empire. There they were visited by the Three Kings.
Mary and Joseph presented Jesus in the Temple on the 10th day, where St. Simeon rejoiced and Mary received word of sorrows to come later. St Joseph and Mary went to Egypt to escape the wrath of King Herod. They remained in Egypt until King Herod died and then returned to Nazareth.
Mary was present at the Crucifixion in Jerusalem, and there she was given into John the Apostle's care. She was also with the disciples in the days before the Pentecost, and it is believed that she was present at the resurrection and Ascension.
The belief that Mary's body was assumed into heaven is one of the oldest traditions of the Catholic Church. Pope Pius XII declared this belief Catholic dogma in 1950.
The four Catholic dogmas are:

1. Mother of God

2. Perpetual Virginity

3. The Immaculate Conception
Mary, as the Mother of the Son of God, was free of original sin at the moment of her conception. The feast of the Immaculate Conception is celebrated on December 8. The birthday of Mary is an old feast in the Church, celebrated on September 8, since the seventh century. The dogma of the Immaculate Conception was proclaimed by Pope Pius IX in 1854.
4. The Assumption of Mary
The feast of the Assumption is celebrated on August 15. At the end of her earthly life, God raised Mary's body directly into heaven.
Pope Pius XII dedicated the entire human race to Mary in 1944, that is why she is considered to be the patron saint of all humanity.
The main events of Mary's life are celebrated as liturgical feasts of the universal Church.
January 1 (Mary, Mother of God), February 11 (Our Lady of Lourdes), May 13 (Our Lady of Fatima), May 31 (Visitation of the Blessed Virgin Mary), August 15 (the Assumption of the Blessed Virgin Mary), September 8 (Nativity of the Blessed Virgin Mary), December 8 (Feast of the Immaculate Conception).
Virgin Mary have miraculously appeared to believers many times over the centuries. The most famous Marian apparitions
took place in Fatima, Lourdes, Guadalupe, Garabandal and most recently in Medjugorje. There are many more such places, I suspect that there would not be enough space on this page to list them all.
The Mother of God calls each of us to conversion, to penance, and she always asks us to pray rosary…

2. St Joseph

Saint Joseph is a key figure in Christianity and is known as the earthly father of Jesus Christ and the husband of Jesus's mother- Virgin Mary. He was mentioned in the gospels of Matthew, John, and Luke, and these are the only sources of information about Joseph's life. He was a descendant of the house of King David and married Mary after she became pregnant with a child while still being a virgin. After he married Mary, he came to know about her pregnancy and planned to divorce her quietly, but an angel told him about her being the future mother of the God's son. He decided to change his decision and live with Mary.
After Jesus' birth at Bethlehem in Judaea, an angel warned Joseph and Mary about the plans of King Herod the Great of Judaea, they fled to Egypt. There the angel again appeared to Joseph, informing him of Herod's death and instructing him to return to the Holy Land.
Joseph, Mary, and Jesus settled in Nazareth in Galilee, where Joseph taught his craft of carpentry to Jesus. He is last mentioned in the Gospels when he and Mary searched for the 12-year-old Jesus in Jerusalem, where they found him in the Temple. The circumstances of Joseph's death are unknown as the gospels do not mention it. He probably died before Jesus' public ministry began and was certainly dead before the Crucifixion.
In 1870 St Joseph was declared patron of the Universal Church by Pope Pius IX, and in 1955 Pope Pius XII established May 1 as the "Feast of Saint Joseph the Worker".
Feast day of St Joseph is celebrated on 19th of March.
St Josephs' attributes are carpenter's square or tools, the infant Jesus, staff with lily blossoms, two turtle-doves or rod of spikenard.
He is the patron saint of Catholic Church, unborn children, fathers, immigrants, workers, employment, explorer, pilgrims, traveler, carpenters, engineers, realtors, against doubt and hesitation and of a happy death. He is also patron of China, Belgium, Canada, Croatia, Korea, Indonesia, Zapotlán in Mexico, Vietnam, Las Piñas, Tagbilaran City, Bohol, Mandaue City, Bailen, Cavite, Cebu and Philippines.
3. Archangel Michael

Michael is an archangel in Judaism, Christianity, and Islam. In Catholic, Eastern Orthodox, Anglican, and Lutheran systems of faith, he is called Saint Michael the Archangel and Saint Michael.
Michael is known as God's "archangel" which means chief angel. His name means "Who is like God?"
Michael is mentioned three times in the Book of Daniel. In Daniel 10:13 as "Michael, one of the chief princes" and Daniel 12:1 where "Michael, the great prince" protects the people of Israel. In Daniel 10:21, "There is no one with me who contends against these princes except Michael, your prince."
In the New Testament, Michael leads God's armies against Satan's forces in the Book of Revelation, where during the war in heaven he defeats Satan. He might be the angel of 1 Thessalonians 4:16 of whom Paul writes "the Lord Himself, with a cry of command, with the archangel's call and with the sound of God's trumpet, will descend from heaven, and the dead in Christ will rise first." This angel leads a host of angels in a victorious war over Satan and His demons in Revelation 12.
In Roman Catholic teachings, Saint Michael has four main roles:
1. His is the leader of the Army of God and the leader of heaven's forces in their triumph over the powers of hell.
2. Michael is the angel of death, carrying the souls of all the deceased to heaven. In this role Michael descends at the hour of death, and gives each soul the chance to redeem itself before passing.
3. He weighs souls in his perfectly balanced scales. For this reason, Michael is often depicted holding scales.
4. Saint Michael, the special patron of the Chosen people in the Old Testament, is also the guardian of the Church.
Attributes of Archangel Michael: treading on a dragon, carrying a banner, scales, sword, and weighing souls.
He is the patron of Vatican City, sickness, police officers, military, protector of the Jewish people and Guardian of the Catholic Church.
4. St Anthony of Padua

Saint Anthony was born as Fernando Martins on August 15, 1195, 13 years after St. Francis, in Lisbon, Portugal, to a wealthy family. By the age of fifteen St Anthony asked to be sent to the Abbey of Santa Cruz in Coimbra. During his time in the Abbey, he learned theology and Latin. Fernando was probably ordained a priest during this time.
The life of the young priest took a crucial turn when the bodies of the first five Franciscan martyrs were returned from Morocco. This event, while viewed by many as tragic and sad was an inspiration to young Fernando. So much so, that it inspired him to make a momentous decision. He decided that he too would become a Franciscan.
Fernando received permission to leave the Abbey so he could join the new Franciscan Order. When he was admitted, he changed his name to Anthony. He traveled to Morocco to spread God's truth, but he became very sick and had to be sent back. During the journey home, his ship ran into storms and high winds and was blown east across the Mediterranean. Eventually his ship made land on the east coast of Sicily. The friars at nearby order, though they didn't know him, welcomed him with open hands.
Anthony was first recognized for his great gift of preaching at a gathering for the ordination of Dominicans and Franciscans in 1222. The passionate manner in which he spoke was what impressed everyone.
Once his talents and knowledge were exposed, his quiet life of prayer and penance at the hermitage was exchanged for that of a public preacher. Francis heard of Anthony's skills as a preacher, and re-assigned the young priest to preach in northern Italy.
Once, when St. Anthony attempted to preach to heretics who would not listen to him, he went out and preached his message to the fish. When critics saw the fish begin to gather, they realized they should also listen to what Anthony had to say.
St Anthony is well-known all over the world as the Patron Saint of lost articles and is credited with many miracles involving lost people and things. The reason for invoking St. Anthony's help in finding lost or stolen items is traced back to an incident in his own life. He had a favorite book of psalms that was very valuable to him because o personal notes and the comments he had made. It was suspected that a novice leaving the community had stolen the Psalter. Anthony prayed for the return of his beloved possession. Shortly after, the novice returned the book and sought Anthony's forgiveness, which was given.
He was only 35-years-old when he died at Arcella on 13 June 1231. St Anthony was canonized less than a year afterward by Pope Gregory IX, making him one of the most quickly canonized saints in Church history. Upon exhumation, some 336 years after his death, his body was found to be corrupted, yet his tongue was totally incorrupt, so perfect were the teachings that had been formed upon it. He was proclaimed a Doctor of the Church on 16 January 1946.
He's typically portrayed holding the child Jesus, a lily, a book or all three in his arms.
5. St Francis of Assisi

St Francis was born in the town of Assisi in Umbria, in the year 1181 or 1182. His father was a wealthy cloth merchant who owned farmland around Assisi, and his mother was a Frenchwoman. Francis left school when he was 14 and become known as a rebellious teenager who frequently drank, partied and broke the city curfew but on receiving a call ( Francis heard the voice of Christ, who told him to repair the Christian Church and live a life of poverty). He gave up everything to lead such a life. Within short period, he gathered thousands of men and women, who gave up everything to follow the path of Christ.
He founded the Order of Friars Minor for men and the Order of Saint Clare for women. He even remembered about those who couldn't join the convent and founded Third Order of Saint Francis for them.
Around two years before his death, in 1224, he received the stigmata during a religious vision, becoming the first person to do so.
Francis of Assisi died on October 3, 1226, while listening to a reading he had requested of Psalm 142, at the age of 44, in Assisi, Italy. He was canonized just two years after his death, on July 16, 1228, by Pope Gregory IX.
Saint Francis of Assisi is the patron saint for ecologists. During his life he developed a deep love of nature and animals and is known as the patron saint of the environment and animals. Along with Catherine of Siena, he was designated patron saint of Italy.
6. St Christopher

Most we know about St Christopher is a legend, however their are some historical sources going back as far as fifth century confirming his existence. One thing we know for sure is that he was listed as a martyr. St Christopher lived and died during the rein of Roman Emperor Decius. The year of his death is 251 AD.
From an early age he wanted to serve the greatest King, so as a young boy he chose to serve his local ruler. After some time he noticed that the King was afraid of devil. St Christopher knew that their was someone else with more power that the King. He came across a band of thieves, whose leader was known as Devil. Shortly after that he discovered that devil was scared of the Cross, which meant that whoever was represented by it was even more powerful than him.
Not long after that he came across some Christians. Hearing the Gospel from Christians made him want to join them. Christopher came across hermit who took him under his protective arm and taught him everything he knew about Jesus Christ.
Nearby was a river with a crossing so dangerous that many people lost their lives there. Hermit explained to Christopher that helping others may please Christ. From that day he was carrying people through the river, hoping this would satisfy Our Lord.
One day a child approached Christopher and asked if he could help him to get across the river. He agreed and started the journey with little boy on his shoulder. At the beginning everything was as usual, but as he approached midstream, the river got dipper and the child seamed to weight more and more, becoming extremely heavy. It took a great amount of strength and courage for Christopher to finish this crossing safely. He couldn't comprehend how such a small child could weight so much, so he asked for some explanation. The child told him that the weight he felt on his shoulders was the weight of the whole world, as He wasn't an ordinary child but Jesus Christ Himself.

Ultimate HEARD Collector's Bundle
from: Truth Becomes Her
Jesus Christ instructed Christopher to cross the river again and plant his trusty staff in the ground. Amazingly, when Christopher came back to that place next morning he found his staff full of flowers and fruits. It was a sign for him that the child was truly Christ.
It is believed that he spent his life traveling and converting people to Christianity through the evangelizing.
It's worth to mention his height, because St Christopher was extremely tall, some even say he was a giant measuring around 7.5 feet (228 cm).
Travelers are not the only ones who can say that St Christopher is their patron saint. Among them are children, motorists, transportation workers, surfers, gardeners, athletes, mariners, even bachelors. He is also known as a mighty protector against toothaches, hailstorms, sudden death and plaque. In addition, St Christopher is believed to protect from floods, epilepsy and lightning.
His feast day falls on the July 25 (eastern feast day on May 9), in spite of the fact he was never officially recognized by the Church and his beatification or canonization date does not exist. He was removed from the Roman Catholic Church in 1969 (under Pope Paul VI), like several other holy names, because their legitimacy couldn't be confirmed.
7. St Benedict of Nursia

Saint Benedict was born at Nursia around 480 AD into a Roman noble family. Along with him was born a twin sister, who we know as St. Scholastica. As a young man, St. Benedict was deeply affected by the loose morals of those in his community. At the age of 20 he retreated into a cave near Enfide. There for three years he lived as a hermit, after which was invited to lead local community of monks.
Benedict founded twelve communities for monks at Subiaco, Lazio, Italy before moving to Monte Cassino in the mountains of southern Italy, where he founded the Benedictine monastery.
Benedict's main achievement, his "Rule of Saint Benedict", contains a set of rules for his monks to follow. His Rule became one of the most influential religious rules throughout Europe. The Rule has 73 short chapters. It deals with the question of how an individual monk may live each day with his mind on Christ as he works and prays. The Rule also covers the duties of the abbot running the monastery as a father, leading the community to live in harmony with God and one another.
The most popularized symbol of St. Benedict is medal worn by many Catholics, which contains images of his life that convey a message of trust in God's power and in His ability to overcome evil. There are 36 words inscribed or represented by abbreviation on the medal.
Saint Benedict died on March 21, 547 AD and was canonized in Rome by Pope Honorius II in 1220. Originally his feast day was March 21, since then it was moved to July 11.
St. Benedict is the patron saint of monks, against poison, agricultural workers, civil engineers, the dying, those afflicted with fever, those with gall stones, those with inflammatory diseases, those with kidney disease, members of religious orders and schoolchildren. He is also the patron saint of Europe.
8. St Charbel Makhlouf

Yussef Antoun Makhlouf is a full birth name of St Charbel. Born in Lebanon, in the small village of Bekaa-Kafra on 8th of May 1828, he was the youngest child of Antoun Zaarour Makhlouf and Brigitta Elias al-Shediyaq. He had four siblings. The family was poor but religious. His father died when little Yussef was only three.
From very young age he was attracted to prayer and solitude. In 1851, when he was 23 he left home without telling anyone and entered the Monastery of St. Maron in Annaya. Yussef became Brother Charbel. He took his monastic vows in 1853 and was ordinated a priest in 1859. He had to wait 16 years before permission was granted to retire to the nearby hermitage dedicated to St Peter and Paul.
For the remaining 23 years he led very simple and ascetic life in his cell. He slept on a straw mattress with a plank of wood for a pillow, with one meal a day (left-overs from the monastery). He had a great devotion to the Eucharist and during the celebration of the Holy Mass he suffered a stroke on 16th of December 1898, dying on Christmas Eve just eight days later. He was 70 years old then.
After three days he was buried without a coffin, as this was the custom of the monastery. For the next 45 nights his tomb was surrounded by a bright light. Large number of people witnessed that and no one could give an explanation of this phenomenon. Permission from authorities was given to exhume St Charbel's body four months after his death. To everyone's surprise his body was found incorrupt, regardless the fact that the grave had been flooded by heavy rains. Charbel was lifted out and he was given fresh clothing before being placed in a coffin in a corner of the monastery's chapel. Mysterious liquid was exuding continuously from the pores of his body.
Body of St Charbel was transferred to another coffin lined with zinc, before being placed in a new tomb inside the wall of an oratory. The tomb was left undisturbed for 23 years and then on 25th of February 1950 pilgrims to the shrine reported seeing liquid seeping from a corner of the tomb, which was opened up. The tomb and the coffin were found dry and in the same condition as when it was sealed, except that a liquid was seen dripping through a crack in the foot of the casket. Once more the body was found to be incorrupted and the fluid continued to be secreted from its pores. (read here how to get the original St. Charbel Oil)
Year of his Beatification (1965), was the end of this great phenomenon, but that hasn't stop St Charbel to work his miracles in lives of those who ask for his intercession. He was Canonized in 1977 by Pope Paul VI.
Feast day of St Charbel is on 3rd Sunday in July (Maronite Calendar) and July 24 (Roman Calendar)
There are no photos or paintings of Saint Charbel from the time when he was alive. On 8th of May 1950 something amazing happened. Few Maronite missionaries took a photo of themselves next to Saint Charbel thumb. Photo was developed and it turned out that apart from the monks, the foreground clearly shows the figure of an elderly monk. Some monks quickly recognized St Charbel in him, as they new him when he was alive. All the images of St Charbel we know took their origin from this photograph.
9. St Pio of Pietrelcina

Francesco Forgione was born May 25th, 1887 in Pietrelcina, Italy. He is well-known as a Padre Pio or Saint Pio of Pietrelcina. An Italian priest, stigmatic and mystic, now venerated as a saint in the Catholic Church.
Padre Pio was baptized in the Church of Saint Ann in Pietrelcina. He was an altar server later on in this same chapel. By the time he was five years old, he had already made the decision to dedicate his life to God. As a young boy, he was able to see and communicate with, not only his guardian angel but also with Jesus and the Virgin Mary.
When Francesco was fifteen years old, he was admitted to the novitiate of the Capuchin Order of the Friars Minor in Morcone, Italy. At the age of 23 Padre Pio was ordained to the priesthood. The celebration of the Holy Mass was for Padre Pio, the center of his spirituality. Pilgrims began to come to him by the thousands, from every corner of the world.
He loved to pray the Rosary and recommended it to others. He had a special mission to the souls in Purgatory and encouraged everyone to pray for them. Shortly after his ordination, he wrote a letter to his spiritual director, Father Benedetto Nardella, in which he asked permission to offer his life as a victim for sinners.
Padre Pio suffered from poor health his entire life, once saying that his health had been declining from the time he was nine years old.
On Friday, September 20, 1918, while he was praying before a crucifix and making his thanksgiving after Mass. He was thirty-one years old and became the first stigmatized priest in the history of the Church. With resignation and serenity, he bore the painful wounds in his hands, feet, and side for fifty years. By 1919, word began to spread about Padre Pio's stigmata and people came from far away to examine him.
His popularity became a source of concern for the Church and the Vatican began to restrict his activities to minimize public interaction. Padre Pio himself was uncomfortable with his newfound popularity and the attention he received because of his stigmata. A Church investigation into his stigmata concluded that his condition was not faked.
Padre Pio had many extraordinary spiritual gifts and charisms including the gift of healing, bilocation, prophecy, miracles, discernment of spirits, the ability to abstain beyond man's natural powers from both sleep and nourishment, the ability to read hearts, the gift of tongues (the ability to speak and understand languages that he had never studied), the gift of conversions, the grace to see angelic beings in form, and the fragrance which emanated from his wounds and which frequently announced his invisible presence.
Padre Pio died on September 23rd, 1968, of a heart attack at Our Lady of Grace in San Giovanni Rotondo. His funeral was attended by over 100,000 people. On June 16th, 2002, Padre Pio was Canonized by Pope John Paul II. His feast day is September 23. He is the patron of civil defense volunteers, adolescents, and the village of Pietrelcina.
10. St Therese of Lisieux

Thérèse of Lisieux, original name Marie Françoise-Thérèse Martin, also called Saint Therese of the Child Jesus or the Little Flower, was a French Catholic Carmelite nun. She was born in Alencon France in 1873, on the 2nd of January, as the youngest of nine children. Her father, Louis, was a watchmaker and jeweler. Her mother Zelie Guerin, built a cottage industry in lace making, unfortunately died of breast cancer in 1877, when Thérèse was only 4.
Four of Therese's siblings died at a young age and the remaining five girls eventually all became nuns. Four became contemplative Carmelite Nuns at the Lisieux Carmel and one became a Visitation sister.
She felt a call to enter Carmel as a contemplative nun, so that she could give herself totally to Jesus. But she was too young. Therese was allowed to enter the Lisieux Carmel at the age of 15. Her father lived to see her professed a Carmelite Nun. She took the religious name of Sister Therese of the Child Jesus and the Holy Face.
Thérèse defined her doctrine of the Little Way as "the way of spiritual childhood, the way of trust and absolute surrender."
She died at the age of 24 (September 30,1897) from tuberculosis, believing that her life was really just beginning for God, promising to spend her heaven doing good on earth. She promised "shower of roses" for those asking for her help.
She was canonized by the Pope Pius Xl in 1925, just 28 years after her death. In October 1997,, Pope John Paul II declared her a Doctor of the Church, the youngest person ever to get that honor. Pope Pius X called her "the greatest saint of modern times". Her feast day in the General Roman Calendar was 3 October from 1927 until it was moved in 1969 to 1 October. She is a patron saint of missions and florists.
Thérèse's parents, Saints Louis Martin and Marie-Azélie Guérin were canonized in 2015 by Pope Francis, they were the first spouses to be canonized together.
11. St Nicholas

Saint Nicholas of Myra, also known as Nicholas of Bari, born around the AD 280, was an early Christian Bishop of Greek descent from the city of Myra in Asia Minor during the time of the Roman Empire. He was an only child to Christian parents. Both of them tragically died during an epidemic when he was a young man, leaving him well off. Nicholas was determined to devote his inheritance to works of charity. He used it to assist the needy, sick, and suffering. He dedicated his life to serving God and was made Bishop of Myra while still a young man. Because of the many miracles attributed to his intercession, he is also known as Nicholas the Wonderworker.
There are many legends about Saint Nicholas of Myra. One story tells how he have rescued three girls from being forced into prostitution by dropping a sack of gold coins through the window of their house each night for three nights so their father could pay a dowry for each of them.
Another of the early stories tells of him calming a storm at sea, saving three innocent soldiers from wrongful execution, and chopping down a tree possessed by a demon.
Saint Nicholas is believed to have died on December 6, AD 343 and was buried in his cathedral church, where a unique relic, called manna, formed in his grave. This liquid substance, said to have healing powers. In 1087 Italian sailors or merchants stole his remains from Myra and took them to Bari, Italy. City became one of the most crowded pilgrimage centers. Since then fragments have been acquired by churches around the world.
Saint Nicholas is the patron saint of sailors, merchants, archers, repentant thieves, prostitutes, children, brewers, pawnbrokers and unmarried people. He is also the patron saint of Greece, Apulia, Sicily and Loraine.
The Dutch started to celebrate the feast day of Saint Nicholas on 6th of December. It was a common practice for children to put out their shoes the night before. In the morning, they would discover the gifts that Saint Nicholas had left there for them. Dutch immigrants brought the legend of Saint Nicholas to America in the 1700s were Saint Nicholas became Santa Claus, and instead of giving gifts on December 6, he became a part of the Christmas holiday.
12. St Rita of Cascia

Rita of Cascia, born as Margherita Lotti, (1381 – 22 May 1457) was an Italian widow and Augustinian nun venerated as a saint in the Roman Catholic Church. The ancient city of Cascia, about seventy-five miles from Rome, in the southeastern part of Umbria was her birthplace.
She expressed the desire to become a nun from an early age, but her parents insisted that she be married at the age of twelve to a nobleman named Paolo Mancini. Her parents arranged her marriage, which was a common practice at the time. Her husband was known to be a rich, quick-tempered, immoral man, who had many enemies in the region of Cascia. The marriage lasted for eighteen years, during which she remained a model wife and mother who made efforts to convert her husband. After she was widowed and both of her sons died she joined an Augustinian community.
Pious Catholic legend recounts that Rita was transported into the monastery of Saint Magdalene via levitation at night into the garden courtyard by her three patron saints. She remained at the monastery until her death from tuberculosis on 22 May 1457.
Various miracles are attributed to her intercession, and she is often portrayed with a bleeding wound on her forehead, which is understood to be a partial stigmata.
There is a nice story about one of the miracles in Rita's life. She was bedridden at the end of her life. While visiting her, a cousin asked if she wanted anything from her old home. Rita asked for a rose from the garden. It was January, and her cousin did not expect to find one. However, when he went to the house, a single rose was found in the garden, and her cousin brought it back to Rita. That's why she is often depicted holding roses or with roses nearby.
Canonized on 24 May 1900, she is honored as a patron saint of hopeless causes. Her feast day is celebrated on 22 May. Incorrupt body of St Rita remains in the Basilica of Santa Rita in Cascia.
St Rita is the patron saint of abused wives and heartbroken women, difficult children, family conflicts, widows and nuns.
13. St Faustina Kowalska

Faustina Kowalska was born on the 25th of August 1905 and was christened Helena. She was the third of 10 children to a poor and religious family from the village of Głogowiec, Poland. Faustina finished just 3 years of schooling.
Faustina felt a calling to the religious life when she was just seven-years-old and attended the Exposition of the Blessed Sacrament. After finishing her schooling, Faustina wanted to immediately join a convent. However, her parents refused to let her. Instead, at the age of 16 she went into service to wealthy families, to earn a livelihood for herself and to help her parents.
In 1924, Faustina experienced her first vision of Jesus. While at a dance with her sister, Faustina saw a suffering Jesus. According to Faustina,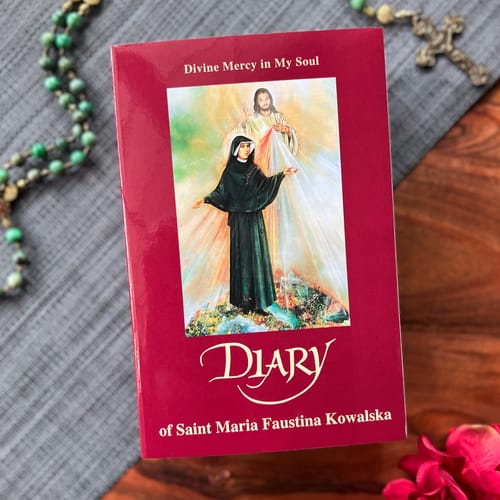 Jesus instructed her to leave for Warsaw immediately and join a convent.
She entered the Congregation of the Sisters of Our Lady of Mercy on August 1, 1925, and took the name Sister Maria Faustina of the Most Blessed Sacrament. She lived in the Congregation for thirteen years in several religious houses. She spent time at Krakow, Plock and Vilnius, where she worked as a cook, gardener, and porter.
The Lord Jesus chose Sr. Maria Faustina as the Apostle and "Secretary" of His Mercy, so that she could tell the world about His great message, which Sr. Faustina recorded in a diary she titled "Divine Mercy in My Soul", also known as a "Diary of Saint Maria Faustina Kowalska"
Through Faustina Jesus handed over the new forms of the devotion to The Divine Mercy, which are: the image with the inscription: "Jesus, I Trust in You", the Feast of The Divine Mercy on the first Sunday after Easter, the Chaplet of The Divine Mercy and the prayer at the moment of His agony on the cross, referred to as the Hour of Mercy. Jesus attached great promises to each of these.
On October 5, 1938, Sister Faustina passed away in the convent of the Congregation in Kraków-Łagiewniki . She currently rests at the Basilica of Divine Mercy in Kraków, Poland. She was canonized and became saint on April 30, 2000.
14. St John Paul ll (Karol Wojtyla)

Karol Józef Wojtyła known as John Paul II since his election to the papacy, was born in Wadowice, a small city 50 kilometers from Cracow, on May 18, 1920. He was the second of two sons born to Karol Wojtyla and Emilia Kaczorowska. His mother died in 1929. His eldest brother Edmund, a doctor, died in 1932 and his father died in 1941.
In 1942, aware of his call to the priesthood, he began courses in the seminary in Cracow and was ordained in 1946, became the bishop of Ombi in 1958, and the archbishop of Krakow in 1964. He was made a cardinal by Pope Paul VI in 1967.
On October 16, 1978, Karol Wojtyła made history by becoming the first non-Italian pope in more than 400 years. He was the 263rd successor of the Apostle Peter.
Since the start of his Pontificate on October 16, 1978,, Pope John Paul II has completed 95 pastoral visits outside of Italy and 142 within Italy. As Bishop of Rome he has visited 301 of the 334 parishes.
His principal documents include 14 encyclicals, 13 apostolic exhortations, 11 apostolic constitutions and 42 apostolic letters. The Pope has also published three books : "Crossing the Threshold of Hope" (October 1994); "Gift and Mystery: On the 50th Anniversary of My Priestly Ordination" (November 1996) and "Roman Triptych – Meditations", a book of poems (March 2003).
John Paul II has presided at 138 beatification ceremonies ( 1,310 Blessed proclaimed ) and 48 canonization ceremonies ( 469 Saints ) during his pontificate. He has held 8 consistories in which he created 201 cardinals. He has also convened six plenary meetings of the College of Cardinals.
He faced the greatest threat to his life in 1981 when an assassin shot John Paul ll twice in St. Peter's Square in Vatican City. Fortunately, he was able to recover from his injuries and later forgave his attacker.
He was a vocal advocate for human rights and used his influence to effect political change.
On April 2, 2005, at 9:37 p.m. Pope John Paul II died. He was 84 years old.
On July 5, 2013, the Vatican announced that the Roman Catholic Church would declare Pope John Paul II a saint. Canonization took place on the 27th of April 2014. His pontificate of more than 26 years was the third longest in history.
15. St Teresa of Calcutta
Mother Teresa was born on August 26, 1910, in Skopje, the current capital of the Republic of Macedonia and was baptized as Agnes Gonxha Bojaxhiu. She was the youngest child born to Nikola and Drane Bojaxhiu. Receiving her First Communion at the age of five, she was confirmed in November 1916. Her father died while she was only eight years old leaving her family in financial troubles.
Gonxha left home in September 1928, when she was 18 to join the Institute of the Blessed Virgin Mary, known as the Sisters of Loreto, in Ireland. She received the name Sister Mary Teresa after St. Therese of Lisieux. Just one year later she departed for her first trip to India, arriving in Calcutta. Sister Teresa was sent to the Loreto Entally community in Calcutta and taught at St. Mary's School for girls. She spent there 20 happy years.
On September 10, 1946 during a train ride from Calcutta to Darjeeling Mother Teresa received her "inspiration, her call within a call", which she considered divine inspiration to devote herself to caring for the sick and poor. She then moved into the slums she had observed while teaching.
She was the recipient of numerous honors. In 1962 the Indian government awarded Mother Teresa the Padma Shri, one of its highest civilian honors, for her services to the people of India. In recognition of her apostolate, she was honored on January 6, 1971, by Pope Paul, who awarded her the first Pope John XXIII Peace Prize. In 1979, she received the Nobel Peace Prize for her humanitarian work, and the following year the Indian government conferred on her the Bharat Ratna, the country's highest civilian honor.
Mother Teresa spoke out against divorce, contraception, and abortion.
She died September 5, 1997, in Calcutta, India and was canonized September 4, 2016. At the time of Mother Teresa's death, her order included hundreds of centers in more than 90 countries with 4,000 nuns and hundreds of thousands of lay workers.
St. Teresa of Calcutta is the patron saint of World Youth Day, Missionaries of Charity and a co-patron of the Archdiocese of Calcutta, alongside St. Francis Xavier. Her feast day is celebrated on the 5th of September.
16. St Hildegard of Bingen

St. Hildegard, also known as St Hildegard of Bingen and Sibyl of the Rhine, is a Doctor of the Church. She was also a writer, composer, philosopher, Christian mystic and German Benedictine abbess. Born around 1098 to a noble family as the youngest of ten children.
At the age of eight she was placed in care of a Benedictine nun, Blessed Jutta. It is said, from this young age, Hildegard began experiencing her visions. When Hildegard turned 18, she became a Benedictine nun at the Monastery of St. Disibodenberg. After Jutta died in 1136, Hildegard was elected superior. She soon moved on with eighteen other sisters to found a new Benedictine house near Bingen in 1148 and later establish a convent in Eibingen in 1165. She believed this was Divine command.
Ordered by her confessor to write down the visions that she had received since the age of three, Hildegard took ten years to write her "Scivias" (Know the Ways).
Her earliest biographer proclaimed her a saint, and miracles were reported during her life and at her tomb. In 2012, Hildegard was canonized and named a Doctor of the Church by Pope Benedict XVI. Her liturgical feast is celebrated on September 17. She is considered a patron saint of musicians and writers.
17. St Rose of Lima

St Rose of Lima born as an Isabel Flores de Oliva in Lima, Peru on April 20,1586. From an early age, Rose wanted to become a nun. She often prayed and fasted in secret, performed secret penances, some of which were severe. She performed daily adoration of the Blessed Sacrament and took daily communion.
When she turned 20, she was permitted to join the Third Order of St. Dominic in Lima. Her parents denied her permission to enter a convent. She continued, however, to remain at home, but she lived a secluded life. She did needlework and sold the flowers she cultivated to support her family. St Rose converted a little hut in the backyard into a hermitage, where she often went to pray.
She died on August 24, 1617, at the age of 31 and was canonized by Pope Clement X in 1671. St. Rose of Lima is the first saint from the Americas. According to legend, she accurately predicted the date of her death. Her funeral was held in the cathedral, attended by all the public authorities of Lima.
Her feast day is August 23 around the world, although some countries, like Peru, celebrate her on August 30.
St. Rose is the patroness of embroiderers, gardeners, florists, those who suffer ridicule for their piety, and people who suffer family problems.
18. St Patrick
St. Patrick, the patron saint of Ireland, is one of Christianity's most widely known figures, known for spreading Christianity throughout the country as a missionary during the fifth century. What interesting Patrick was never actually canonized by the Catholic Church. This is simply due to the time he lived in. During the first millennium, there was no formal canonization process in the Catholic Church. Patrick was likely proclaimed a saint by popular acclaim.
He was born in Roman Britain and when he was 16, he was captured by Irish pirates and taken to Ireland as a slave. Patrick's captivity lasted for about 6 years. He became a cleric shortly after and returned to northern and western Ireland. In later life, he served as a bishop, but little is known about the places where he served.
Patrick preached and converted Irish people for 40 years. He worked many miracles and wrote of his love for God in autobiographical "Confessions". After years of living in poverty, traveling and enduring much suffering he died on March 17, 461.
Saint Patrick's Day is commemorated on 17 March, day of his death. It is celebrated inside and outside Ireland as a religious and cultural holiday.
19. St Valentine

St Valentine was a Catholic priest who had also worked as a doctor. He lived in Italy during the third century AD and served as a priest in Rome. Valentine became famous for marrying couples who were in love but couldn't get legally married in Rome during the reign of Emperor Claudius II, who outlawed weddings. St. Valentine was martyred and then buried on the Via Flaminia to the north of Rome. In 1969, the Roman Catholic Church removed St. Valentine from the General Roman Calendar, because so little is known about him. What we know for sure about him is that archaeologists discovered a Roman catacomb and an ancient church dedicated to St. Valentine.
His feast is widely celebrated on February 14 and commonly associated with day of love, devotion and romance. This romantic nature of Valentine's Day may have derived during the Middle Ages, when it was believed that birds paired couples in mid-February.
St. Valentine is the Patron Saint of affianced couples, beekeepers, engaged couples, epilepsy, fainting, greetings, happy marriages, love, plague, travelers, and young people.
20. St Peregrine

Peregrine Laziosi (1265-1345) was born in Forli, Italy. He is the patron saint for persons suffering from cancer, AIDS, and other life-threatening illnesses.
In his teens he joined the enemies of the Pope in his hometown. During one uprising, which the Pope sent St. Philip Benizi to mediate, he was struck in the face by Peregrine. When Philip offered the other cheek, Peregrine was so overcome that he repented and converted to Catholicism. Shortly after Peregrine went to Siena and joined the Servites. He had a reputation for passionate preaching and being a good confessor.
A few years later a cancerous growth appeared on his right foot. It was so painful that he finally agreed to amputate it.
The night before the scheduled surgery, Peregrine spent hours in prayer. He dreamed that Christ was touching him and healing his foot. The thrill of it woke him up, just to discover that everything was completely healed.
The following day, the doctor arrived to perform the amputation and finding no sign of the cancer. News spread of the miraculous cure throughout the town. This only increased the people's regard for Laziosi.
He died in 1345 at the age of 85 and was canonized by Pope Benedict XIII in 1726.