Have you ever heard of St Joseph's Statue for selling house? The tradition of burying the statue of St Joseph in order to speed up the sale of your house dates back to the sixteenth century, when Saint Teresa of Avila needed more land to build a new convent and was granted her wish through the procedure.
From mine own experience I know St Joseph can be very helpful in selling houses. You must know that thanks to Saint Joseph, I received an offer for my house for the full asking price in less than 2 weeks. If you are intrigued by this, I invite you to learn about my story and how Saint Joseph can help you as well.
My Own Story First (or How St Joseph's Statue Helped me in Selling House)
I don't want to go into unnecessary details, but my husband and I decided to sell our house in June last year. We found a real estate agent, we prepared our house for viewings and … not much happened. We had some occasional viewers. One of them even made an offer, but it was ridiculously low. Frustrated, we waited for our buyer.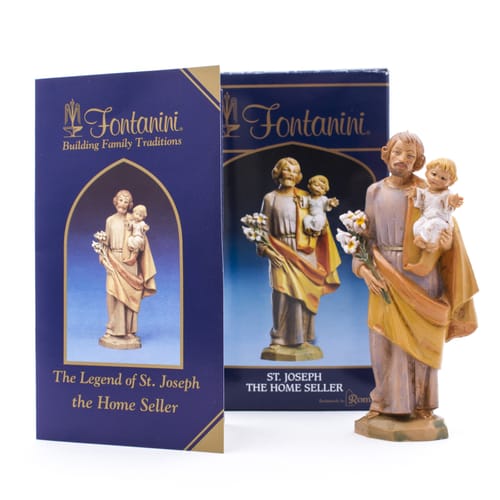 Fontanini St Joseph Home Sale Kit
At that time I read somewhere that there is a way to sell your house fast. The point was that in the yard of the house being sold you have to bury a statue of Saint Joseph. In addition, you have to ask Him every day for help in selling the house. This must be done with a strong conviction that we will be heard in our request. That was the theory…
In practice, I did not have time to buy a Saint Joseph statue, because we had to go abroad for some time. It so happened that I was the owner of the Saint Joseph medal, which I had attached to my bracelet. I thought that it is worth trying to bury the medal and that the saint will not be offended for it 😉 I had a feeling that prayer and faith in the whole process were more important, not the fact that I had exchanged the statue for a medal.
Without thinking much, I took my medal and put it in a little plastic bag. I went to my yard and buried the bag under the fern bush, remembering to ask Saint Joseph from the heart for help in quick sale.
Long story short, during our trip we were inundated with offers from people who came to see our house. We got an offer from every person who came to viewing. In the second week after burying the medal, two interested parties began a biding war, which ended up with the receipt of the full asking price. In addition, the winning bidder was the first time buyer, so the sale was much easier and faster, than it would be if they were in the chain.
The Story Behind It
It's said that St Teresa of Avila needed land for another convent in the 16th century. She and her nuns buried medals of St Joseph and prayed to him. It was not long before they got the land they needed to continue their work.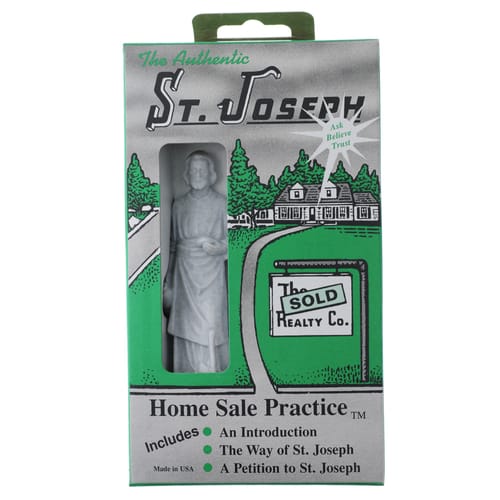 St. Joseph Home Sale Kit & Prayer Card
There is also the old German ritual of carpenters burying a statue of their patron St Joseph in the foundation of the house they were building. In the late 1800s, Brother Andre Bessette of Montreal repeated St Avila's medal burial when owners would not sell him the land he wanted for a chapel. The story says they quickly changed their minds and made the sale.
If you would like an official confirmation of this practice by the Catholic Church, you will not find one. Burying a statuette or a medal is definitely an act of faith, you are asking St Joseph to help you, that is, you have to believe in him, and thus you have to believe in God. It is important not to treat it as some form of superstition or lucky charm. You have to really believe in the process.
How To Do It (St Joseph's Statue for Selling House- Instructions)
If you browse the internet you will see many websites with detailed directions on how to bury the statue of Saint Joseph so that the house sells quickly. You will get a whole list of instructions, for example:
♦ Bury the statue 12 inches deep- if I were you, I wouldn't worry too much about that. I suspect that this is just an
invention of the manufacturers of the instructions that you get with the statue of Saint Joseph. My experience shows that it doesn't matter how deep you bury this statue. It just has to be covered with soil.
♦ Bury the statue next to your For Sale sign- in my opinion there is absolutely no need to bury the statue next to the sign. I bury the medal in my backyard, next to the fern plant, just to remember where for the future. It is important to take a statue or a medallion with you when you move.
♦ You can bury your statue in the flower pot, if you don't own any land. I have to say I agree with that. I read some testimonies of people who lived in an apartment or flat. They buried the statue in a pot and it worked too.
♦ Place the statue upside-down so that St Joseph will be motivated to free himself by getting your house sold- a bit silly, at least I think so.
And many other instructions, not even worth of your time.
I will tell you what I think. If you believe that Saint Joseph will help you sell your house quickly, get his statue or medal, because as my experience shows, it does not matter whether you use one or the other and bury it wherever you think, no matter if it's a yard or a flower pot and pray to Saint Joseph every day, asking for quick help.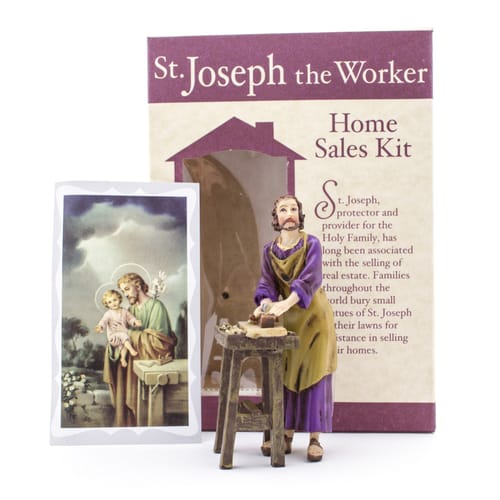 St. Joseph the Worker Home Sale Kit
Once he has fulfilled your request, excavate the statue or the medal, say thank you with all your heart and put it in your home, remembering to show him your gratitude from time to time. I think it would be the height of ingratitude if we left him in the ground after all this.
To be completely honest with you, I think even prayer alone would be enough, but it takes great faith. Being people of not so great faith, we need something that can be seen and touched, something that will increase our faith, something that will give us hope.
Where to get the statue or medal?
Statues of St Joseph which you can get online are not very expensive, you can get small, plastic one for about $6. There are more expensive one as well. Price range is very broad. If you want more fancy statue you can easily spend $40- $50. You can find St Joseph plain or painted, wearing a Biblical dress or a carpenter's apron, holding his tools and many more.
The price depends on what the statuette is made of, and what additional items it has in the set. Some of them have very nice prayer cards, instructions and even velour pouches that are used to bury the statuette. It all depends on how much money you want to spend.
This website called "The Catholic Company" offers statues in the price range of $5.95 to $25.95
If you prefer to get the Saint Joseph medal, the choice is huge. The price depends on the metal used in the production. If you plan to wear your medallion around your neck or as a bracelet after the sale of your home, invest in a medallion made of silver or gold. You'll be wearing it for years. If you buy a metal medal, it is very likely that you will remove it from the ground already rusty.
If you like to have message engraved on your medal I would recommend  PicturesOnGold.com or SacredMedals.com

catholiccompany.com has a very wide choice of medals for every pocket, with prices starting with $1.95
Prayer of St Joseph for a Quick Sale of Your House
"O, Saint Joseph, You who taught our Lord the carpenter's trade, and saw to it that he was always properly housed, hear my earnest plea.
I want you to help me now as you helped your foster-child Jesus, and as you have helped many others in the matter of housing.
I wish to sell this [house/property] quickly, easily, and profitably and I implore you to grant my wish by bringing me a good buyer, one who is eager, compliant, and honest, and by letting nothing impede the rapid conclusion of the sale.
Dear Saint Joseph, I know you would do this for me out of the goodness of your heart and in your own good time, but my need is very great now and so I must make you hurry on my behalf.
Amen"